Protection Film For Shower Screen


Invest in the safety of the shower screen you use everyday
Preventing Shattered Glass

An anti-shatter film is a thin, clear film that can be applied to glass surfaces to help prevent shattering and protect against injuries. It is often used in shower screens, toilet partitions, and other glass surfaces to improve safety and prevent accidents.
It's alarming to know that you can be vulnerable even in your own bathroom. Fluted glass, a popular choice for budget shower screens, is especially prone to breakage from very little cause. We have all experienced minor slips in the bathroom, so it is important that we take this danger into proper consideration.
The even-tempered or toughened glass used in quality shower screens is susceptible to spontaneous breakage, the glass shattering without any apparent reason. This is caused by impurities in the glass that expand and contract when subjected to the elements. When the glass gets too much stress, it breaks even without anybody touching it.
Safety and Security Window Film 
We offer a comprehensive selection of the world's most premium window films suit your needs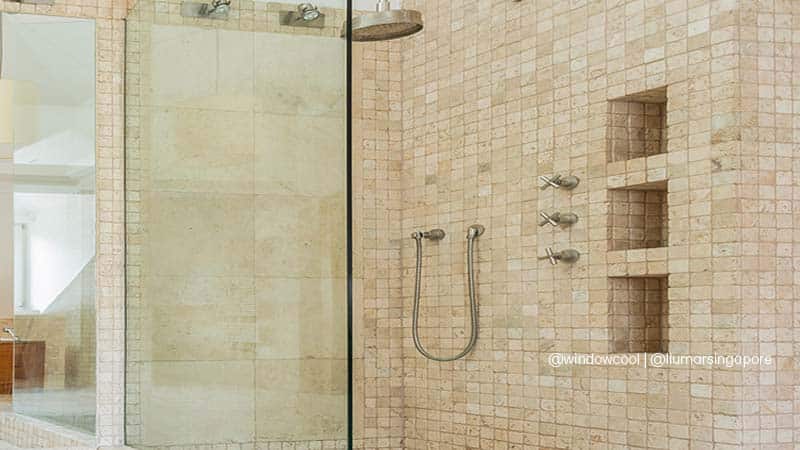 Injuries and fatalities can be prevented by the use of anti-shatter safety films in your bathrooms. The film is clear and practically invisible when applied to the glass but can provide much-needed protection in the case of spontaneous breakage or accidents. Safety films are made of heavy-duty polyester bonded with special adhesives that hold broken glass together, reducing the risk of cuts and wounds.
With anti-shatter LLumar safety films, you can rest assured that you're getting the industry's most durable polyester film. LLumar security films protect you while allowing excellent optical clarity without shadowing or yellowing your glass.
anti-shatter protection safety film can provide an added layer of protection for your shower screen glass while also offering a range of other benefits that can enhance the functionality and appearance of your bathroom.
Recommended Film Thickness
Safety Film – Clear 
Thickness: 4mil (100 microns)
Solar Properties:
% Visible Light Transmittance: 89
% Total Solar Energy Rejected: 15
% Ultraviolet Ray Protection: 99
Schedule A FREE
Measurement and Consultation
to learn more about our services and how we can help you achieve your goals
The use of anti-shatter protection safety film on shower screen glass can offer several benefits
Here are the proven results of having safety / security films on your glass.
Hotel Bathroom Shower Screen Impact Testing
Demo 1 : LLumar 4mil or 100 microns (window film applied on one side only)
Demo 2 : LLumar 2mil or 50 microns (window film applied on both sides)
Demo 3 : Other Competitor Brand: Window Film (6mil)
Video credits: Pou Fung Hong Carpets and Wallpapers Macau
Have a Query or Require Assistance?
Whatever you need, we are here to assist you!
The Leading Provider of Window Shades in Singapore Since 1999