Change your view without changing your location
Be Inspired. LLumar Glass Enhancement Film

Bring color and texture to virtually any glass window, door or room divider. LLumar glass enhancement film puts a new world of creativity, functionality and flexibility within your grasp, and within your vision. Prove that you're not a bore and let out the artist in you!
Decorative
Window Film Series
We offer a comprehensive selection of the world's most premium window films suit your needs
Frosted films, popular for homes and offices, provide privacy and reduce distractions while allowing light in, ideal for conference rooms, study areas, bathrooms, and corridors.
Variation of stripe, square, and dot patterns offer a unique twist on privacy, allowing visibility in select areas and signaling approaching individuals.
LLumar offers a spectrum of colors to match any personality. Translucent colored films add vibrance to a room, leaving a bold impression that wows guests.
Opaque Film / Blackout Film
LLumar's AHL Series uses Hybrid-Matrix Technology for maximum heat and UV protection, glare reduction, and zero electromagnetic interference.
Customize your space with a corporate logo or personal signage and leave your mark on doors, windows and other glass surfaces.
Schedule a Free
Measurement and Consultation
to learn more about our services and how we can help you achieve your goals
One look at LLumar decorative film and you will know that you have never seen a window film quite like it.
LLumar film is the most outstanding world-class window tint supplier that, with more than 60 years of experience serving customers around the world, knows your needs better than anyone else. Maximum reliability and guaranteed superior quality, always from the hand of our trained installers.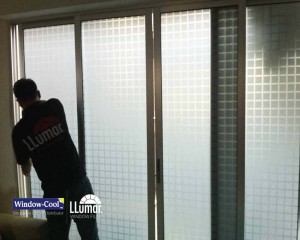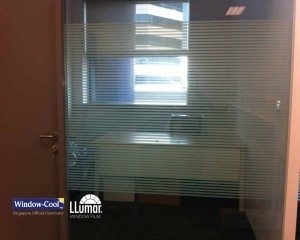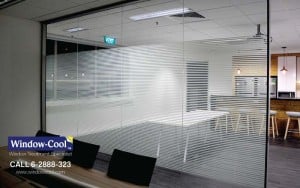 Window-Cool is the official distributor of LLumar window film in Singapore. One of the leading company specializing in glass window tinting all over in Singapore and has well experienced, trusted window film installation service. Most trusted company solar film Singapore's supplier.
Recommended applications: Home, Apartment / Condominium, Commercial Offices, Retail Spaces, Hotels, Schools & Universities, Health & Care Facilities, Automotive / Car
Have a Query or Require Assistance?
Whatever you need, we are here to assist you!
The Leading Provider of Window Shades in Singapore Since 1999